Special Eye Testing
in Havelock, NC
Special Testing Means Extra Special Eye Care
Spectral Domain OCT
Our OCT helps us better manage glaucoma and diseases of the retina because this technology allows the eye doctor to see the deep tissue layers in the eye. These high-definition images are the only way that they can actually see beneath the surface to the nerve fiber layers where damage occurs. Up until now, eye doctors had to use other tests to indicate damage in this critical area of sight. Common eye diseases such macular degeneration, diabetic retinopathy, and glaucoma are detected early by the OCT when the diseases can be more effectively treated. service.
ZEISS/Humphrey Visual Field Testing
Visual Field testing can help save vision because it is another test used to diagnose or rule out glaucoma and other neurological disorders that affect vision. This simple, but effective service has saved lives by detecting various medical conditions such as strokes, brain tumors, and other neurological defects.
Our ZEISS CLARUS 500 allows our clinicians to track subtle changes in pathology over time. In addition to true color imaging, it also captures high-resolution fundus autofluorescence (FAF) images–FAF-Blue and FAF-Green–and external eye images. Along with an intuitive review software, the ultra-high-resolution of this next-generation retinal camera from ZEISS allows us to manage change with confidence.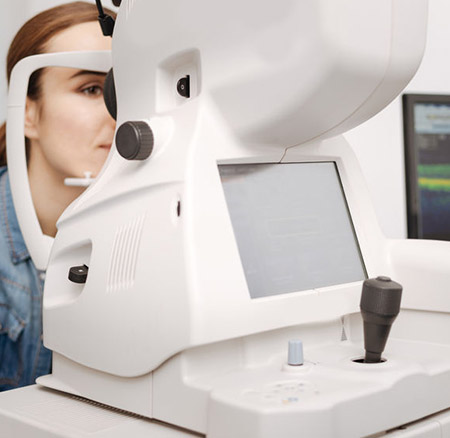 Essilor Visioffice Digital Measuring System
Today's high-resolution lenses require laser-precision measurements to perform their best. Our Visioffice system from Essilor allows the opticians to obtain every possible parameter required for modern lenses with extreme accuracy. Our Visioffice system will let you see your best from your new custom, digital lenses from Varilux. No-line bifocals and single vision lenses can be produced precisely the way your eyes will be using them.
Our high-definition digital lenses use the Visioffice® System to calculate a perfect match of lenses based on eye, frame and behavior data. This "dynamic 4D" measurement system uses eye data by precisely tracking optical Eye Center Rotation, or "ERC." To focus, the eye rotates around a fixed point called the ERC.
The Visioffice® system uses advanced technology to measure this ERC and your dominant eye to make your custom lenses. Frame data such as the size and fit are taken into account to ensure that your new lenses are made precisely for your frame. Behavior data uses natural head posture and gaze to target best vision where you look and see. High-definition digital lenses uses the latest in manufacturing techniques to ensure sharper vision at any angle and under any lighting conditions.
Enhanced Fit™ lenses use W.A.V.E. technology™ to provide sharper vision as well as take into account frame data and prescription to make custom lenses for you. Ipseo™ lenses add behavioral data to create a lens that matches you personally and creates wide, comfortable vision for progressive lens wearers. Fit™ and Eyecode™ are available in multifocal and single vision versions. The result is clear, sharp vision all the time.
OPTOS Retinal Exam
Annual eye exams are vital to maintaining your vision and overall health. We offer the Optomap® Retinal Exam as an important part of our eye exams. The Optomap® Retinal Exam produces an image that is as unique as you fingerprint and provides us with a wide view to look at the health of your retina. The retina is the part of your eye that captures the image of what you are looking at, similar to film in a camera.
Many eye problems can develop without you knowing. You may not even notice any change in your sight. But, diseases such as macular degeneration, glaucoma, retinal tears or detachments, and other health problems such as diabetes and high blood pressure can be seen with a thorough exam of the retina.
An Optomap® Retinal Exam provides:
A scan to show a healthy eye or detect disease.
A view of the retina, giving your doctor a more detailed view than he/she can get by other means.
The opportunity for you to view and discuss the Optomap® image of your eye with your doctor at the time of your exam.
A permanent record for your file, which allows us to view your images each year to look for changes.
The Optomap® Retinal Exam is fast, easy, and comfortable for all ages.  To have the exam, you simply look into the device one eye at a time and you will see a comfortable flash of light to let you know the image of your retina has been taken. The Optomap® image is shown immediately on a computer screen so we can review it with you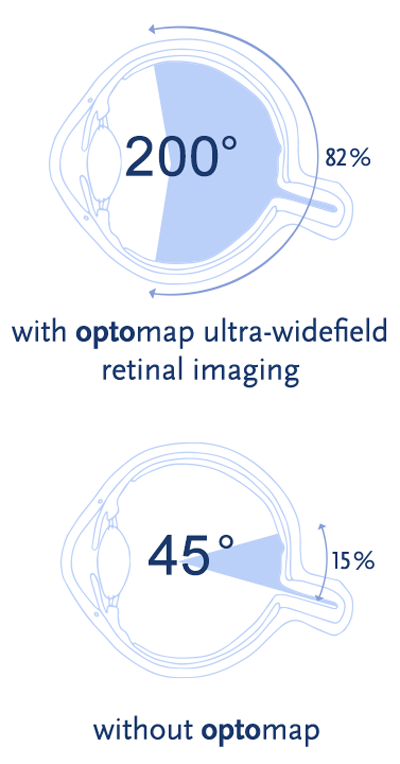 Our Relationship with local Specialists keeps you seeing your best.
LASIK Vision Correction
In our office, you will receive a thorough and detailed assessment to determine your candidacy for laser vision correction. You will have an opportunity to ask any questions that you may have. Our doctor is fully certified and experienced in laser vision correction pre- and post-operative care.
We know that laser vision correction is a considerable decision, and your needs and expectations will be taken into account in the evaluation process. You will receive an unbiased recommendation as to your suitability for the procedure.
Cataract Surgery & Low Vision
A cataract is a clouding of the lens inside the eye. The lens sits just behind the pupil and is responsible for focusing light. As the lens increases in cloudiness, it becomes more difficult to see objects clearly and bright lights can cause glare. The most common form of cataract is that of aging and it is inevitable as we mature. In most cases, cataracts do not cause any harm to the eye and cataract surgery is only done to improve the vision in which glasses no longer can improve the vision. Cataract surgery is more the patients decision than ours, because we usually recomend surgery only when the cataracts are affecting your daily life. There is no harm in delaying surgery if your life is only minimally affected.